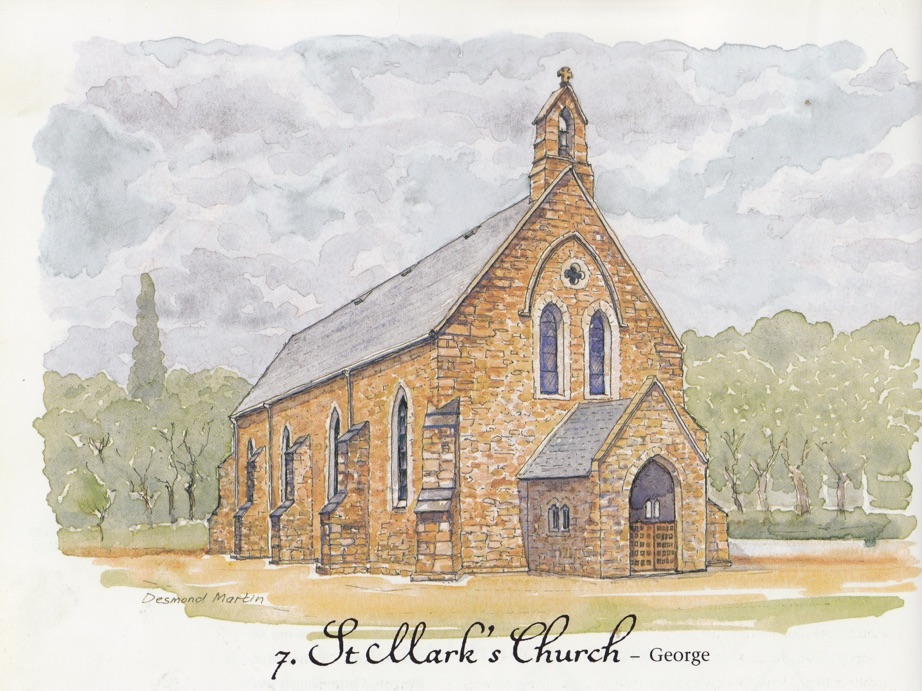 SPEAKER: NATIE DE SWART
Sophy or Sophia Gray was a multi-faceted person who happened to be a woman. It would be easy to talk about her and her achievements for a long time.
What I would like to do is to talk about the person and to put her in the context of the time in which she lived and worked, the work she did, and the efforts involved.
In this talk the elements will be
The person
The time
Her work
Sophy Gray, the person.
Youth
Born on 5th January 1814, five years before Queen Victoria and more than 20 years before the Victoria era began.
Let's ponder that for a moment – more than 202 years ago.
During the first twenty years of her life, slavery was acceptable – and a source of wealth to many families.
Can we begin to think what Keurbooms looked like then.
No Angling Club I am sure.
She was the 5th daughter of country squire Richard Wharton Myddleton of Durham and Yorkshire and grew up as a member of an affluent family. They were all well-read and proficient horse riders from an early age.
Married
In 1846, at the age of 22 after a 6-month engagement, she married Robert Gray, the rector of Whitworth, Durham.
They lived at Old Park and Whitworth, all the time involving themselves in the spreading of Christianity and civilization, as they saw it – and in the ecclesiastical church movement.
Robert developed strong feelings about church architecture,many Sophy began to make drawings of architecture in a sketchbook.
Robert Gray regarded churches with white walls as hideous and despised church buildings with rounded windows.
ORGANISER
From the start
In 1847, Robert was chosen as Bishop of the Cape of Good Hope bishopric, and on 29th June 1847, in Westminster Abbey, he was consecrated the first bishop of South Africa. His diocese included the whole Cape Colony, the Orange Free State, Natal, Tristan da Cunha and St Helena.
After the Bishop's consecration, he and Sophy planned, within a few days, the requirements of a new diocese in terms of clergy finance and equipment.
They considered Cape Town and Grahamstown and decided in favour of Cape Town.
Before departure
The time between his consecration and his departure was spent in raising funds for his diocese. He was a formidable fundraiser and it is estimated that he collected £130 000 for his diocese during his lifetime.
If we use the equation of Martin Meredith, that would equate to some £13 million today.
A very heavy burden fell on his wife, Sophy. Within days, she planned the requirements of the new diocese in terms of clergy, finance and equipment. She had to prepare for a Bishop's residence and for everything they might need for years in far off Africa. She hired a retinue of servants, purchased furniture for an unknown residence and even obtained an episcopal carriage.
Sophy spent her days with pen in hand, copying correspondence and other documents.
But what she also did, was to visit churches and make sketches of every detail of church architecture.
She also painted numerous water colours – and frequently illustrated her husband's journals.
At departure
On the 20th of December 1847, they set sail from Portsmouth on a little ship – open-decked and exposed to the elements.
It was hardly in motion before Sohpy unpacked her boxes and was bent over ledgers and papers.
They arrived in Cape Town on 20th February 1848 after 8 weeks at sea.
At the Cape
in Cape Town, the couple settled on the farm Boschheuwel, which originally belonged to Jan van Riebeeck.
It was subsequently named Wijnberg and then Bishopscourt.
Soon after their arrival, the organizing of the first synodical meeting at Cape Town fell on Sophy's shoulders. . Nine clergy and their attendants had to be fed and accommodated in her home.
The Bishop immediately started visitations to outlying parts of his diocese. She arranged all visitations for the Bishop. While he was travelling, she wrote to him constantly, carried out all his instructions and copied his correspondence.
A few years after their arrival, the Cape Diocese became an efficient and smooth-running organisation.
NURSE
In addition to her time-consuming and extensive administrative duties, Sophy took responsibility for nursing her husband. He suffered from a variety of chronic conditions – one of which is described as
"Agonising from behind his forehead, beating into his brain. He was feeling faintness, chilliness and nausea" . His physician diagnosed it as "rheumatism in the head" (but it was probably migrainous neuralgia).
The doctor bled him profusely without success. He tried Iodide of Potassium for pain and Bawley's Sedative Solution to make him sleep.
Sophy wrote: "The Bishop is suffering from a severe attack of illness which entirely prevented him from attending to any business. "
He was a highly psychosomatic case.
Sophy had no time or opportunity to recover from her sleepless duties of caring for the Bishop and facilitating diocesan affairs. The Bishop wrote that she "has been much tried in nursing me for so long a time".
Traveller
The Bishop's diocese was extensive. He embarked on a series of visitations almost immediately and was accompanied by his wife on almost all of them.
They travelled under harsh and sometimes dangerous conditions over very long distances.
Roads on the Garden Route were impassable by cart and they always rode. There she experienced "steep, slippery trails, dripping forests and flooded rivers".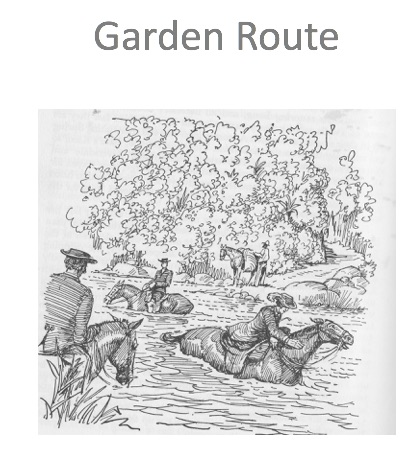 In other areas she and the Bishop walked over hundreds of miles.
One of these fearful journeys was from Klaarstroom to Beaufort West. They drove through dreary landscape for 100 miles to Victoria (West) and had to overnight in a room shared with a hen and chickens in a deserted farmhouse. They reached Beaufort West on that occasion after 1 000 miles on the road.
Sometimes, especially at George, the heavens opened up on them.
Her horsemanship was regarded as better than that of the Bishop – and indeed that of any man. But it was excruciatingly exhausting.
Everywhere she travelled, plans were started for church buildings.
Architect: Her Church Buildings
On his visitations, the Bishop implored communities to start with the construction of churches and promised that he would furnish plans and working drawings. He was a formidable fund raiser and it is estimated that he succeeded in raising about £130 000, at a time when a decent little church could be built for around £1 000. They were a formidable team and the number of Anglican churches in SA rose from ten, at the time of their arrival in 1848, to around 50 by 1871, when Sophy died.
It was the time of the Gothic Revival style in England and the style was favoured for all ecclesiastical buildings.
This emerged from Gothic architecture in the 18th and 19th centuries
Gothic architecture which emerged in 12th and 13th centuries broke with the architecture of Constantinople and Northern Italy, and was characterized by ribbed vaults, flying buttresses and pointed arches which enabled very tall structures with as much natural light as possible –and large stained glass windows.
One of the earliest buildings in this style was the Carolinian Church of St Denis in Ile de France.
New Gothic or Gothic Revival architecture was characterized by steep pitched roofs, buttresses, and lancet windows. It flourished in 18th century England. The industrial revolution meant that new materials were available and this coincided with a deep philosophical and religious revival. The driving force of the Empire at the time was a combination of Commerce, Christianity and Civilisation.
There were three types of New Gothic: Early English, Decorated and Perpendicular.
Finances dictated that most churches in South Africa be built in the cheapest of these, the Early English.
The Bishop did not approve of brick for church building but preferred stone. He believed that plastering of walls disfigured a church. Round-headed windows in a church were regarded by him as hideous.
When the Sophy and the Bishop arrived in South Africa, there were only 10 Anglican churches. By the time he died 25 years later, there were more than 60.
Sophie Gray prepared sketches and working drawings for at least 40 churches.
Some of her church buildings are:
St Mark's, George
During his first visitation to George in 1848, the Bishop met with church members in the local court house and a plan by Sophy Gray was accepted. She laid the foundation stone on 23 October 1849 (should have been 22 October). It was consecrated by Bishop Gray on 7 December 1850. Too small in ten years time and much has been added onto it.
St Paul's, Rondebosch
There was a church on the site (since 1832) but it was too small. The Bishop offered a plan in the Decorated New Gothic style for its extension. The foundation stone was laid on 20 February 1849. The plan is thought to be a design by the British architect Butterfield, modified by Sophy.
St Peter's Plettenberg Bay
William Newdigate was the chief driving force behind the building of a church at Plettenberg Bay. Bishop Gray met him on his first visit in 1848. Newdigate financed the first wooden church but it became too small and dilapidated. Sophy Gray provided a plan and the church was built between 1878 and 1881.
St George's, Knysna
The Bishop initiated the building of a church in 1848 and provided a plan by his wife. Building started in 1849 on land provided by George Rex but stopped, due to a shortage of funds. During a visit in 1850, the Bishop was very pleased to see that a very fine stone for building had been found. "The church is a decorated building copied from an ancient English church and is intended to be the chancel of a larger edifice".
It was consecrated on 3 October 1855.
St Matthew's, Riversdale
The Bishop visited Riversdale in 1848 and initiated steps to have a church built. The DR Church gave the church a plot and a plan by Sophy was accepted. The cornerstone was laid on 22 November 1854 and the building was consecrated two years later on 22 November 1856.
All Saints, Uniondale
The Bishop obtained an erf there in 1869 and a plan by his wife was accepted. She passed on in 1871 and the Bishop in 1872. They never saw the church completed. It was opened for use in 1876.
St Paul's, Port Elizabeth
Sophy Gray designed the church but her plans were not correctly executed. The Bishop consecrated the church on 30 August 1856. A tower and spire were added twelve years later. It was demolished in 1959.
St Thomas Mission Church, Rondebosch
Sophy Gray provide plans and it was built in 1864 and 1865. Although originally only a small thatched chapel, it had distinct features. It was enlarged in 1903.
St John the Baptist, Schoonberg
Peregrine Bertie Richardson made land available and Sophy provided plans for a church building at Schoonberg. The newly built stone church was taken into use in 1854 and in 1855 the Bishop travelled to Schoonberg to consecrate it.
The Bishop noted in his journal on 13 October 1855: …exceedingly well built early English church and very neatly and correctly fitted up.
It was built altogether according to Sophy's plans. It was damaged by fire and rebuilt with some additions and modifications.
Holy Trinity, Belvidere
Unique in the sence that it is Sophy Gray's only Norman design in SA. This design predated by about 200 years the 3 Gothic styles of Europe popular from 1140 to in the 1500s.
Bishop Gray visited the site and got the ball rolling in 1848, it was opened for service in 1853 and was consecrated on 5 October 1855.
St Saviours, Claremont
The foundation stone was laid in November 1850, it was opened for services in March 1853, consecrated on 18 April 1854 and completed in 1880. Both Sophy and the Bishop are commemorated in the church and in St George's Cathedral.
St Peter's, Cradock
It was initiated during the Bishop's visit of 1848 when he promised:
"My wife will furnish you with plans and working drawings for your church if you will tell her how many you want it to contain".
Holy Trinity Church, Caledon
Initiated during Bishop's 1848 visit, consecrated August 1855.
Armstrong Memorial, Grahamstown
It was initiated as a memorial out of grief for the untimely death of the first Bishop of Grahamstown. He died of tuberculosis on 16 May 1856, less than two years after he and his family arrived in Grahamstown and was buried next to his baby daughter Ruth. After his death funds for a memorial chapel streamed in from near and far and in 1859 this memorial was built over the graves of Bishop Armstrong and his little daughter. Bishop Gray and his wife Sophy travelled to Port Elizabeth by sea and she provided a plan for the memorial chapel. It is thought that an original design by Henry Woodyer of London, a pupil of William Butterfield, was modified by her. Building commenced in December 1856 but soon came to a halt. A second builder moved onto the site but proved worse than the first. A third contractor finished the building but soon ongoing repairs caused concern. In 1869 Bishop Cotterill described it as too ruinous to restore and urged it to be taken down. It died a slow death from neglect and vandalism until its demolition in 1950.
Sophy Gray died aged 57 at Bishopscourt, Cape Town on 27th April 1871.
She was buried in St Saviours churchyard, Claremont.
Her husband died the following year on 1st September 1872 aged 62..
Additional reading:
Desmond Martin – The Bishop's Churches. ISBN 978-1-77007-155-1
Thelma Gutsche – The Bishop's Lady